This video demonstrates the airflow in our XLTC isolators through a simulation with a smoke device. It walks you through the performance of the built in HVAC system in various settings. In the demonstration, we run the smoker inside the transfer chamber with its door open. We can see the airstream rushing outside of the enclosure through that door due to the fact that the enclosure is running positively pressurized when compared to the room settings.
Our goal with that XLTC setup is to avoid any particulates coming in the chamber and contaminating the product. 
With the door of the staging chamber shut, the unit runs with uni directional air flow from top to bottom and working around the sleeves. In this demo video, we also show the XLTC capabilities of running the compounding area more positively pressurized than the pass-through chamber, so that can assure further particulate elimination from the direct compounding zone.
XLTC800 operational brief: The blue arrows represent system air flow path. ​​ The labeled boxes show chamber names and relative pressurizations. ​​ Unpacking, staging, storage, bag out/decon prep is done in the unclassified rightmost chamber called the Containment Vented Enclosure (CVE) It is the most negative of the three. ​​ It draws air in from both the ambient and the middle chamber know as Containment Secondary Engineering Control. This C-SEC is ISO5 used for wipe​​ down type disinfection of all surfaces that are to be transferred into the Containment-Primary Engineering Control. ​​ The C-PEC is ISO5 and positive pressure to the C-SEC. It is the leftmost chamber used for HD sterile transfer.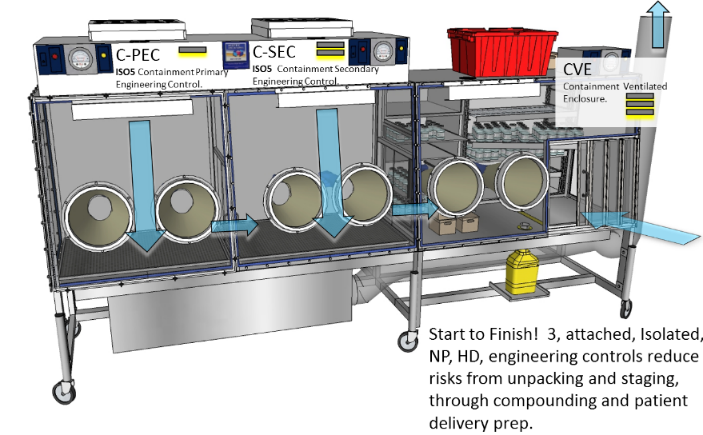 Clearly, this is not a cGMP grade parenteral process. Please keep in mind, we are comparing the XLTC800 to the typical pharmacy configuration of an open BSC in a negative pressure cleanroom. A cleanroom that has no sterile processing equipment. It usually runs negative pressure to the anteroom. It often houses a "non-cleanroom grade", HD storage refrigerator and all the HD inventory storage, because it is the only containment room. ​​ Surface contaminated product is constantly being walked directly into these areas. ​​ At best, wipe down disinfection with Sterile IPA is all that is happening prior to placement in the BSC. ​​ HD receiving/staging is normally done in a non-adjacent area that "may" be negative pressure and then product is transported into the cleanroom. Breaks, drops and spills can yield exposure risk.