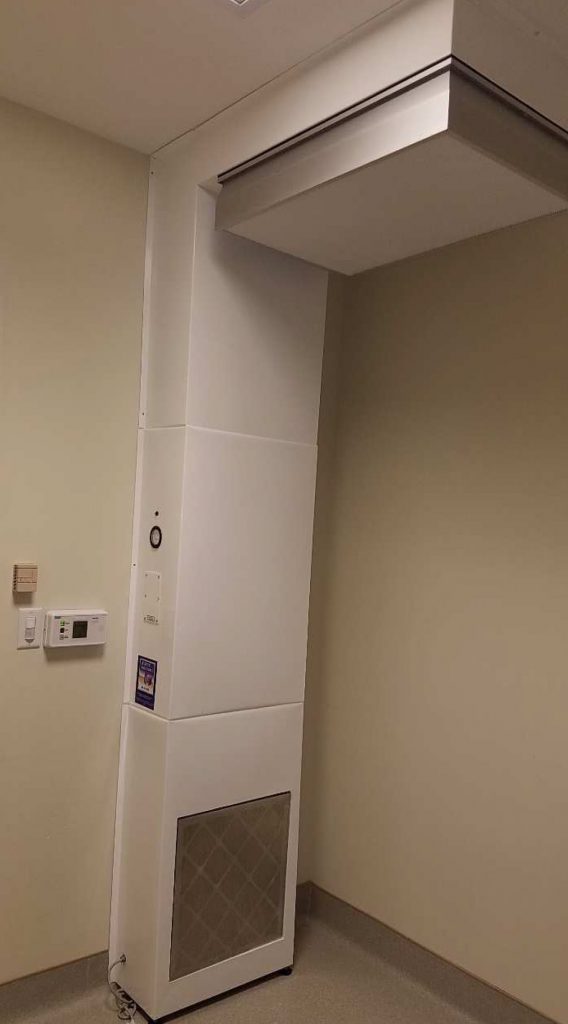 Aseptic Enclosures' HEPAcirc™  Fan Filter System is designed for  simple, "Plug-and-Play" "clean-build" facility implementation.
The HEPAcirc™ is a Hospital/Pharmaceutical CleanRoom Grade, air purification upgrade system. It is ideally suited for simple implementation into existing areas.  It can get the job done without  the need for major,  sometimes impossible, construction.
Design Build Hepa Filtration Systems
Our HEPAcirc™ system features a built-in low-wall return for superior airflow and patient  isolation applications.  It can facilitate safety and cleanroom compliance that could otherwise be impossible. Design/Build customization options are available for specialized applications. It is an important part of our broad air purification systems product line.
UV decontamination can safely be incorporated into the duct work.  It is designed to provide an ISO Class 5 (Class 100) or ISO Class 4 (Class 10) clean air environment suitable for hospital infection control, pharmacy, laboratory, testing, manufacturing, inspection and/or pharmaceutical operations.
Many modules and custom designs available
Check out our official accounts