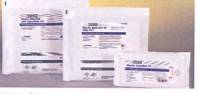 FDA reminder of safe non sterile alcohol prep pad use
The FDA is reminding healthcare professionals about the safe use of non-sterile alcohol prep pads to clean and disinfect the surface of the skin. This reminder comes in light of the recent recall of Triad Group alcohol prep pads and swabs due to concerns of potential contamination with Bacillus Cereus. The FDA advises that healthcare professionals check the labeling of alcohol prep pads to determine if it is sterile or non-sterile. If a pad does not state "sterile" on the label, healthcare professionals should be aware that they are using a non-sterile pad.
Non-sterile alcohol prep pads are not intended to prepare patients prior to procedures requiring strict sterility measures and should not be used on patients with a depressed immune system, to prep patients for catheter insertion, or to prep patients prior to surgery. The FDA recommends sterile antiseptics (including chlorhexidine gluconate, alcohol or iodine applicators, pads, and swabs) in settings where patients are more susceptible to infections (i.e., hospitals).
Covidien, a global provider of healthcare products, announced the discontinuation of its non-sterile alcohol prep pad product line sold under the brand names Webcol and Curity effective Feb. 1, 2012. Covidien will continue to offer equivalent sterile products as a replacement for the discontinued non-sterile codes.
"Covidien continues to maintain outstanding quality and process controls in our alcohol prep manufacturing processes," says Jim Clemmer, president of Covidien Medical Supplies. "The recent discovery of B
acillus cereus in other manufacturers' products, however, has led us to re-evaluate our non-sterile portfolio. In an effort to reassure our customers and reduce any risk to patients, we have made the decision to discontinue these products."
Covidien has never recalled alcohol prep pads. The company produces more than 1 billion Webcol and Curity alcohol preps each year at its facility in Augusta, GA. Covidien is focused on innovative manufacturing processes and rigorous quality standards, which result in a consistently reliable product. Over 10 different inspections, tests and quality controls are applied to each production lot.
"While an alcohol prep pad may seem like a small item in the medical supplies portfolio, it does have direct patient contact and direct patient consequences," Clemmer adds. "With our alcohol preps our customers know the manufacturer and trust the brand. Covidien wound care products represent over a century of quality and innovation trusted by healthcare professionals around the world."
Sterile alchohol Usage in Hospital Compounding Facilities:
We will give you one direct example relating to our introduction of a new product several years ago, Sterile Alcohol. This scenario also could directly relate to one of the possible causes of the recent fungal meningitis outbreak, and could be a significant contributor to Hospital Acquired Infection.
We had hired a marketing assistant to promote Sterile Alcohol. Part of his assignment was to track the number of Hospital Compounding facilities actually using "Sterile" (vs. non-sterile) IPA when cleaning their compounding PEC's (Primary Engineering Controls), i.e. Hoods/Isolators/Biological Safety Cabinets/Clean Benches used in compounding. What we extracted from our survey was that over 50% of the market was not using Sterile IPA.
Why not? If you take a look at some of the blogs concerning the USP's indoctrination of this practice, it is clear that there is resistance to the use of sterile alcohol. Do you know why sterile isopropyl alcohol is called for (Sterile Alcohol) by the USP no less than 36 times ? The reason for the use of "Sterile alcohol" is because IPA is not Sporicidal or Fungicidal. In fact, the practice of using non-sterile alcohol for injectable applications is condemned by most Microbiological and Sterilization experts. An early indication as to the source of the fungal contamination causing the outbreak, as reported by the News Scientist, is that it was a leaf fungus.
How the fungus actually got into the vials has not yet been reported, but one way or another, it is linked to poor aseptic practice. So if you're not using sterile IPA, the IPA itself could have contamination in it. In fact, it is common practice for spore suppliers to research labs to ship their spores to clients packaged in IPA. In the Parenteral Production environment, a facility found using non-sterile IPA as a final wipe down would likely come under a FDA dissent decree.
For ordering information please call 800-418-9289 and reference to item # AESA 501 .
To get updates about our products and services Follow our Linkedin page.