Achieving and maintaining SOPs for USP Pharmacy General Chapter <800> Hazardous Drugs—Handling in Healthcare Settings is a continuous effort that requires unremitting attention and maintenance, including staff training, performance review, documentation, and quality improvement efforts. Developing comprehensive policies and procedures (P&Ps) and standard operating procedures (SOPs) is critical to ensuring compliance with the chapter (see TABLE: Recommended SOPs for USP <800> Compliance).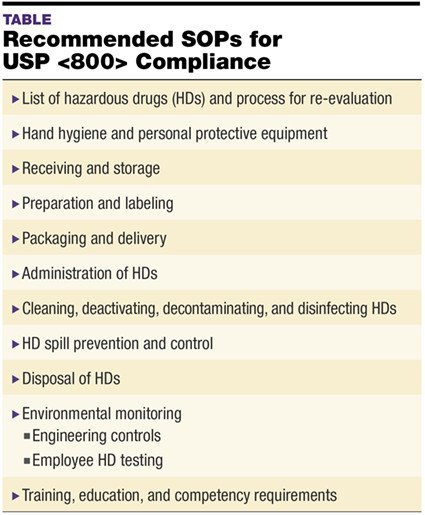 It is not uncommon for there to be a lack of understanding in hospitals and health systems regarding the distinction between P&Ps and SOPs. However, as departments grow and organizations develop into true enterprise systems, awareness of the difference is important. Pharmacy P&Ps describe rules, positions, or a broad overview of important matters affecting the department. P&Ps are meant to remain in place for a significant amount of time and adjusted periodically based on changing vision and goals.
They typically describe what and whypharmacy operates in a certain manner. Conversely, SOPs are specific descriptions of duties or responsibilities, and are intended to provide more detail for those following P&Ps. SOPs describe who, when, and how work should be done. The differences between P&Ps and SOPs become increasingly evident as departments seek to attain and maintain USP <800> compliance.
While both P&Ps and SOPs are necessary building blocks to ensure safe, accurate, and efficient pharmacy compounding, a surprising number of pharmacies choose to only create P&Ps and disregard the need for SOPs. This approach is shortsighted, as delineating the exact procedures required to address various tasks is just as critical as developing policies (ie, the what and why).
How to maintain SOPs for USP Pharmacy
SOPs should be outlined in a concise format with sufficient clarity for their audience. SOPs are typically organized under the following headings:
Title and identification number
Creation and revision dates
Description or purpose
Definitions used
Process steps
Frequency or timing
Responsible parties
Critical elements to devise at the outset include a standardized SOP format, accessible storage location(s), staff training requirements, a regular SOP review schedule, and the establishment of a multidisciplinary team.
Standardized SOP Format
Although multiple formats may be utilized for usp 795 sops, it is critical that the format chosen be consistently used across the department. For example, establish whether process steps are to be numerical or graphical, utilizing a flow chart. A standardized format ensures uniformity, which will be appreciated by the staff.
Store SOPs Properly
Both P&Ps and usp <800 policy and procedures template should be stored in an area that is readily accessible to all staff who may use them. Accessing this information should be sufficiently convenient so that staff does not feel a desire to bypass the information because it is difficult to retrieve. SOPs stored online or printed and stored in a binder close to the operational area have historically been the best options. Another consideration is whether usp 797 standard operating procedures should be accessed onsite-only or both onsite and offsite.
Staff and administrators may occasionally require offsite access to P&Ps and SOPs for compliance purposes; these may most easily be accessed online. When frontline staff have questions about the who, when, or how, ensuring easy access to SOPs is a simple way to help ensure established practices are consistently followed over time.
Appropriate Staff Training
Thorough staff training and clear communication are critical during SOP implementation to lay the groundwork for success, particularly when SOPs impact multiple disciplines. Post-implementation, managers can utilize checklists and sign-off sheets to reinforce s.
Review SOPs for USP Pharmacy Regularly
A complete pharmacy compounding guidcelines review should occur annually and whenever pharmacy undergoes significant changes, such as a physical remodel of the pharmacy, switching to a new electronic medical record, implementation of new automation, or a change in staffing levels. SOPs can be reviewed on a rotating schedule throughout the year, or performed all at once at year's end. The process for reviewing SOPs and the specified frequency should also be included in the SOP.
Utilize a Multidisciplinary Team
In the pursuit of USP <800> compliance, a multidisciplinary approach is ideal. To effectively evaluate each step within the medication-use process, convene a team approach that includes pharmacy, nursing, medical staff, and environmental services or waste management. It is critical to recognize that USP <800> compliance and appropriate hazardous drug (HD) management neither begins nor ends at the pharmacy door.
Contact or send message on Linkedin 
& Let us know how we can help!