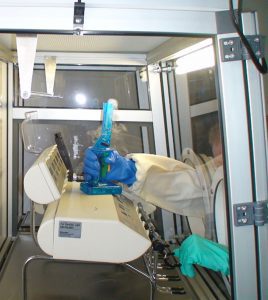 When it comes to cleanroom design, fabrication, installation, pricing, and customer service, we do clean rooms right. The importance of understanding your current situation is always a great starting point for any type of project. So our pharmacy project engineers are now conducting on-site visits for inspection and evaluation of your cleanroom areas in your facility.
Our usual procedure is as follows:
We first perform an engineering controls assessment/audit for general USP <797> and USP <800> compliance of any relevant physical clean space. A report will be provided for the Director of Pharmacy approximately two weeks after the visit. Also included is the formation of the conceptual design to improve the facility's aseptic quality. We provide a detailed needs assessment that will include project scope, design requirements, manufacturing processes, and construction considerations resulting in three-dimensional conceptual design with rough field dimensions included. Our product line offers a wide range of custom equipment to meet USP 797 and USP 800 compliance, from compounding aseptic isolators to hoods and clean benches. Look to our broad product for solutions from multiple potential platforms to help create an environment that is also ergonomic, functional, efficient and cost-effective.
USP 800 compliance as well as USP 797 compliance is our specialty here at Aseptic Enclosures. We work with industry leaders in the pharmaceutical compounding world to make sure we offer the most up-to-date protective equipment whether it is clean rooms, isolators, laminar flow hoods, or HEPA Air Handling systems.
Let Aseptic Enclosures help your facility be the most the aseptic and safest working environment possible.
Schedule an introductory Virtual Meeting Today! Or contact our pharmacy project engineers for an on-site visit dates 1-800-418-9289