Aseptic Enclosures awarded USP <797> and <800> Pharmacy Planning and Design agreement with Premier, Inc.
November 9, 2015 – Aseptic Enclosures has been awarded a group purchasing agreement for USP <797> and <800> Pharmacy Planning and Design with Premier, Inc., a leading healthcare improvement company. Effective October 1, 2015, the new agreement allows Premier members, at their discretion, to take advantage of special pricing and terms pre-negotiated by Premier.
Aseptic Enclosures USP <797> and <800> Pharmacy Planning and Design offers existing, or new facilities a detailed 3D conceptual design to achieve the most aseptic, safest, cost effective working environment possible. We can provide exceptionally creative solutions because we can also custom manufacture the engineering controls. A comprehensive questionnaire designed to help consider and develop a concept for your project is discussed, completed and provided to you for informative purposes. We also define general equipment requirements and approach for clean room/isolator solutions, storage requirements, work-flow description and analysis, ISO classification, General ASTM Class, USP 797 and 800 compliance. Our goal is to provide you the most aseptic and the cost-effective solutions available.
Premier is a leading healthcare improvement company uniting an alliance of approximately 3,600 hospitals and health systems and 120,000 other providers. Please visit Premier's website at www.premierinc.com for more information about the company.
Parenteral production has been on of our company's focal points since its founding in 1992. First, in cGMP compliant FDA registered pharmaceutical manufacturing facilities, and now, since 2005, the "end user" Pharmacy Sterile Compounding segment.
Aseptic Enclosures first entered into the hospital pharmacy market with the introduction of our CAI "compounding aseptic isolators" and CACI "compounding aseptic containment isolators". Since that time our product line has grown to be the most comprehensive range of solutions for USP 797 and USP 800 compliance. Please visit our site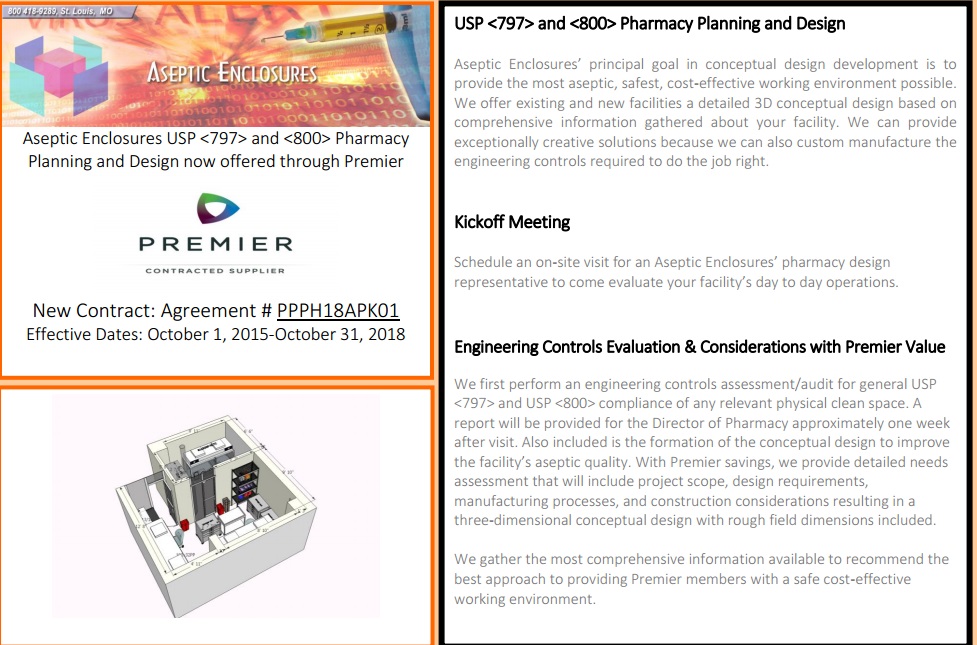 Checkout our offical accounts