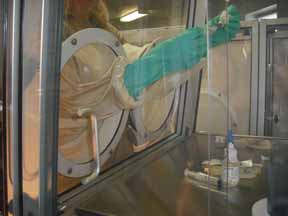 Compounding Aseptic Isolator (CAI)
An isolator specifically designed for Aseptic preparations and USP 797 compliant Hospital Pharmacy compounding pharmaceutical ingredients or preparations. It will maintain an aseptic environment within the isolator throughout the compounding and material transfer processes. Typically our isolators run at ISO CLASS 4/ASTM CLASS10 during working conditions. Air exchange into the isolator from the surrounding environment should not occur unless the air has first passed through a microbial retentive filter. Please note: This equipment provides product protection only. Call, email or chat to get more details.
Compounding Aseptic Containment Isolator (CACI)
USP 797 compliant, hospital pharmacist protection from exposure to undesirable levels of airborne drugs throughout the compounding and material transfer processes. They provide an superior aseptic environment for compounding sterile preparations. Where volatile hazardous drugs are prepared, the exhaust air from the isolator should be appropriately removed by properly designed building ventilation. Call, email or chat to get more details.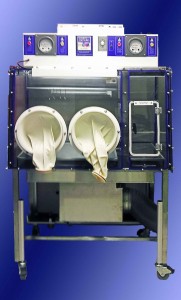 ACI Aseptic Containment Isolator
Designed specifically for Research and Development. Just like our CACIs that are used for cytotoxic chemotherapy compounding, our ACIs provide a superior solution to class II BSC's. They provide comprehensive containment that protects both the product and person. They run at exceptionally low particulate levels!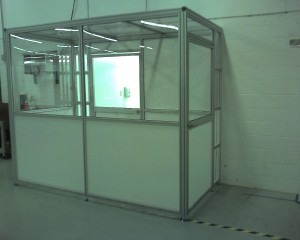 We offer a complete range of clean-room solutions. If your existing clean-rooAnte ChambersA clean room is a room in which the concentration of airborne particles is controlled to meet a specified airborne particulate cleanliness class. Microorganisms in the environment are monitored so that a microbial level for air, surface and personnel gear are not exceeded for a specified cleanliness class. Call, email or chat to get more details.
Portable Clean-rooms – Built on casters for mobility. Portable clean-rooms can be produced in a variety of sizes to accommodate your work. Class 100 – 100,000 ISO 5-8. This 8x8x8 unit pictured is used in a parenteral (inject-able) production facility for raw materials testing. Products are brought into the warehouse and then transported via forklift into this class 100,000 room where drums are open and material is removed for QC testing. Product is then quarantined until QC testing is completed. Although 512 cu ft, our clean-room can easily be moved around the warehouse. Recovery times are quite quick.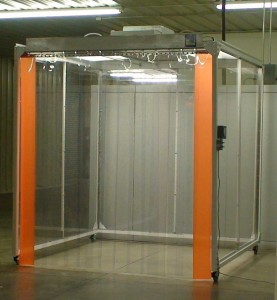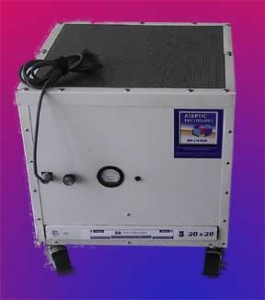 Portable HEPA Fan Filter Units
Portable fan filter units can be used for a variety of applications to add additional air-changes per hour to existing clean-rooms that need upgrading. For areas where traditional fan filter units can not be installed. To supplement and clean up air for existing HVAC systems. This particular model was built for a patient diagnosed with COPD. It was located near the intake of the existing HVAC intake to supply clean air to the system. It has a capacity of 1500 cfm which is sufficient to provide class 100,000 air to approximately 1,100 square feet (10 acph @ 8ft ceilings).Ceiling units, remote ducted, wall mounted with low wall return are all available at a variety of output ratings.
UV Disinfecting Proprietary UV disinfection systems provide a safer processing environment and can help extend filter life. Call, email or chat to get more details.
Sometimes the total containment solution is overkill. For less important "pretty clean" applications our cleanbench can be an economical and effective solution. They provide an ISO class 5 /ASTM class 100 environment, but, please note, that condition is only guaranteed under steady state conditions. In normal operation, user error and procedural breaches are pretty common. With that in mind, we can build any type of clean bench that your job requires. Custom heights, widths, depths, materials, lifting systems. We also have all the standard sizes 2-8ft. Picture here is a 6ft slimline clean bench with Lexan sides and a stainless work-surface.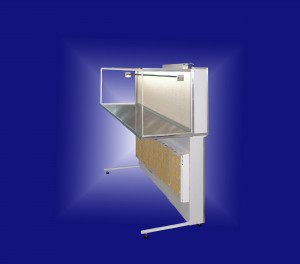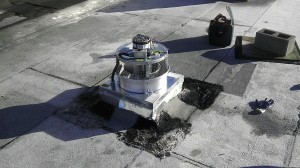 If you need help getting your equipment vented, call us for details on equipment and supplies we offer to vent your hazardous effluent out of the building. Show to the right is an installation without the cover of a 1000 cfm downdraft exhaust fan.
AENE531, Building Exhaust Alarm, — $1,398.42
Aseptic Enclosures' Building Exhaust Alarm System is designed to monitor your vent line to assure adequate vacuum is maintained at all times. It has 2 alarm set points to notify personnel if there is not enough, or conversely too much vacuum in the exhaust line. While not enough vacuum could mean a potential safety hazard, too much vacuum could effect CACI performance.
CALL FOR COMPLETE SPECIFICATIONS ON THIS IMPORTANT OPTION
Custom Enclosures, Booths, Hoods and Isolators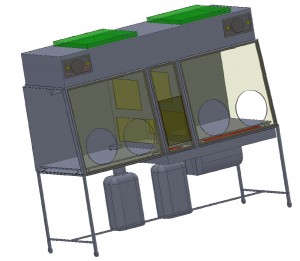 Much of the work we do at Aseptic Enclosures is of standard design, but there are many builds we have done for clients that are custom. Typically, customers expect custom designs to be price prohibitive. However, we have a very efficient system of redesigning from our standard products base. We can provide approval drawings as part of the design review process. Typically, we will provide conceptual designs in Solid Works 3D to enable our clients to better conceptualize our solution to their requirement.
Additional airflow modeling can also be provided to assure desired characteristics are built into the product. Typical airflow modeling includes computational fluid dynamics. In this process air-flows are evaluated in conjunction with design features of our equipment to analyze the laminar airflow of our designs. Unidirectional airflow is quite important in aseptic applications due to the cleaning effect of a sterile air shower vs. that of a turbulent flow design.