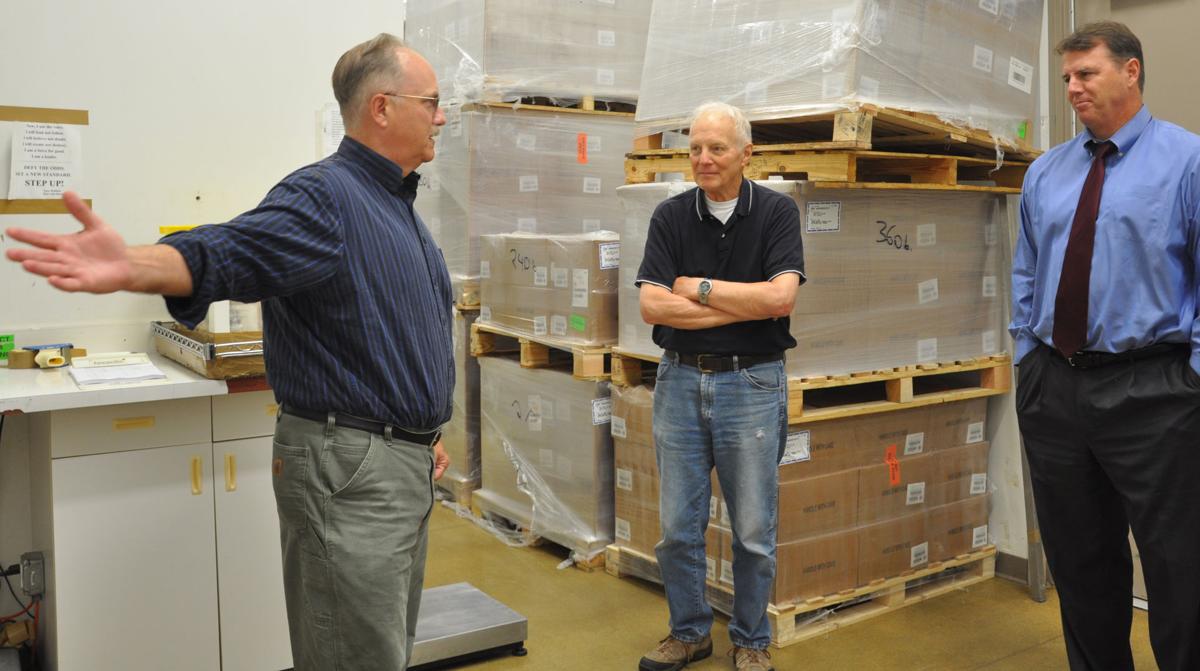 Bill Soderlund Jr., left, talks about Food and Drug Administration regulations that Vet-Rx complies with, while Bill Soderlund Sr., center, and state Sen. Nick Frentz listen. (Nancy Madsen/St. Peter Herald)
Bill Soderlund Jr. says he loves regulation.
"When I pump a gallon of gas, I want to be sure it's exactly a gallon of gas," he said. As a pharmacist, he praises regulations that ensures products are sterile and what they claim to be. But regulations to comply with Medicare Part D rules drove him from the independent pharmacy that he and brother Patrick had operated in St. Peter.
"It was 1,500 man hours and several thousand dollars of government regulation," Soderlund said. The new regulations covered everything from sterilizing crutches to earthquake response, he said. "I thought, 'This isn't even pharmacy anymore.'"
Soderlund talked about regulatory hurdles for the family's animal compounding pharmacy. Compounding has long been the task of pharmacists; father Bill Sr. had made drugs prescribed for humans and animals at his Northfield and St. Peter locations. The Soderlunds ran their Village Drug pharmacy on Minnesota Avenue and then at the southeast corner of Park Row and South Third Street for 23 years. But since 1995, Bill Jr. has grown Vet-Rx as a separate business, compounding medicine for animals.
They've filled prescriptions for all kinds of animals, from dogs to a panda bear. But they found a niche with turkey and hog farms.
"Pat had the idea of branching into food animals," Bill Jr. said.
The business moved to a building in the city's North Industrial Park off Sunrise Drive in 2008, where it now employs 14 people.
There, the Soderlunds showed Frentz the compounding process, sterilization safeguards and some of the regulations they follow.
Compounding pharmacies came under closer scrutiny after a 2012 outbreak of meningitis, whose cause was contaminated injectable medication from a Massachusetts compounding pharmacy. The Food and Drug Administration was given more authority over compounding pharmacies, but states are the primary regulators of pharmacies through state Boards of Pharmacy, according to the National Conference of State Legislatures.
Vet-Rx is inspected every year by the state and every other year by the FDA, Bill Soderlund Jr. said. They also have state board and national board inspections.
"I'm not complaining," Bill Jr. said. "I'm happy to be inspected."
For mixing liquids, the compounding pharmacy uses a clean room, where bottled liquids are brought in, run through a chlorine bath and opened and mixed by staff wearing masks, gloves and protective suits in a room with filtered air under hoods. The Soderlund's patented concoctions are put in patented delivery systems for shots.
But some of the processes they're required to follow don't seem logical. The FDA requires Vet-Rx, as a pharmacy serving food animals, to buy commercially available drugs. So amoxicillin, a first-line antibiotic, is brought in boxes carrying bottles of 500 pills. It's ground down to a powder, tested for its content and potency and mixed with other medicines.
"We used to buy the powder form of the drug from the drug company," Bill Jr. said. "This is a lot more expensive."
Vet-Rx creates powder forms of prescriptions that are water soluble, which means hogs can drink it. Hogs won't take pills and drinking the supplements or medicine is preferred to shots.
The Soderlunds emphasized that everything they create is based on a prescription from a veterinarian. And they check it seven times to make sure it's right before it's shipped to the farmer. For liquids, that includes using chromatography, which identifies each component in a solution or mixture.
"One of the criticisms is that compounding is sort of the Wild Wild West," Hubert "Buck" Humphrey, a lobbyist with Forbes Tate in St. Paul. "But this is very specialized science to create patented products."
With new federal laws from 2014, and state attempts to build regulations on them, the Soderlunds are concerned about the direction the state Board of Pharmacy could take with them.
Their compounding pharmacy is unique in the country in that it focuses on food animals, Bill Jr. said. The new federal rules are silent on how the food animal pharmacy should be treated.
Frentz, DFL-North Mankato, asked whether they've had any complaints from veterinarians or farmers.
Bill Jr. said they have not.
Frentz said he and his staff are keeping tabs on how pharmacy regulations develop, at the Soderlunds' request.
"It's a business in the district; it's agriculture in the district," he said. "I will study it, try to figure it out and promote our local business if I can."